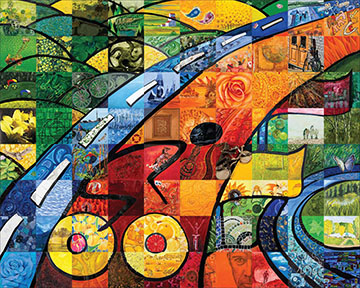 In April we will see brightly coloured jerseys cycling the hills of Milton as the Tissot UCI Track Nation's Cup hosted by Cycling Canada comes to the Mattamy National Cycling Centre on Tremaine Rd. This is the only North American stop on their 2023 schedule and we are excited that athletes and cycling enthusiasts will once again see the Mural created by the Fine Arts Society of Milton for the 2015 Pan Am Games.
The mural was FASM's response to the Town's request that community groups find creative ways to participate in the Games. FASM President Ursula McDermid says that the idea was to create, "a piece of art that was representative of our entire group of artists …would capture the essence of the community and this premiere international sports competition".
Milton Contemporary artist Aparna Rangnekar, reflects, "I came up with the concept of making a mosaic mural so that each artist had their own 'canvas' to make their individual artwork as well as be part of the larger mural".Each artist was given a 10 x 10 wooden panel that they used to create their art piece in their own unique way. The beautiful mural measuring 6.5 x 8.5 feet can be found hanging on the upper wall of the velodrome as a permanent piece of art for all to see and you can see glimpses of it in photographs of the cycling competitions.
"The final mural was a fantastic collection of work by 80 artists, all with unique styles, techniques and media" says Jason Panda, an advisor, designer and photographer to the mural project. Photos of each work were compiled into a commemorative book: "A Milton Legacy" and include the artists' statement about their work. Copies of this book are available at The Studio, 6 Martin St. or by sending a request to fasminfo@gmail.com.
We welcome the athletes and fans to take a selfie with the mural and post to our FB page @fine.arts.society.of.milton. A random poster will be picked to receive a copy of "A Milton Legacy". Looking forward to seeing your pics!
By Diana Tuszynski and Jenny Panda